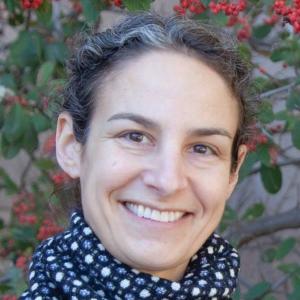 Associate Professor
Writing
Specialization
:
Visual and Material Rhetorics, Environmental and Sustainability Rhetorics, Rhetoric and Technical Communication as Advocacy work, Cassical and Contemporary Rhetorical Theory, Animal Studies
Education
:
Ph.D., Rhetoric and Scientific and Technical Communication, University of Minnesota
M.A., Technical and Professional Writing, Northeastern University
B.S., Geography, Clark University
Bio
:
Amy Propen is an Assistant Professor in the Writing Program, as well as a faculty affiliate of the Center for Information Technology and Society, and a participating faculty member in the Interdepartmental PhD Emphasis in Environment & Society, which is housed in the Department of Environmental Studies. She teaches courses in rhetoric and professional writing, including Writing About Sustainability, Multimedia Writing, and the Seminar in Document Design and Production. Her research interests include visual and material rhetorics, environmental and sustainability rhetorics, digital and posthuman rhetorics, rhetoric and technical communication as advocacy work, classical and contemporary rhetorical theory, animal studies, human geography, critical cartographies, and critical GIS. She is particularly interested in the connections between multimodal technologies, the posthuman, and environmental and marine species conservation.